SANTA BARBARA, Calif., March 7, 2000 – The Optical Storage Technology Association (OSTA) today revealed that 17 CD drive manufacturers, representing well over 90 percent of all CD optical drive shipments worldwide, have achieved compliance with its MultiRead specification. MultiRead is an optical drive specification that enables all classes of CD discs (CD-Audio, CD-ROM, CD-R, CD-RW) to be read on current and future CD and DVD devices. Today's announcement marks a key milestone in the association's ongoing effort to protect users' investments in optical media and its content by ensuring disc read compatibility as they upgrade to newer CD and DVD drives.
CD drive manufacturers that have achieved MultiRead compliance include: Actima, Aopen Inc., Behavioral Technology Computer, Hewlett-Packard, Hitachi, LG Electronics, Lite-On, Matsushita Kotobuki Electronics, Mitsumi, NEC, Pan-International, Philips, Ricoh, Samsung, Sony, TEAC and Toshiba. Building on this success, OSTA is setting its sights on the burgeoning DVD market by urging drive manufacturers to achieve MultiRead compliance for their new products.
"This announcement underscores OSTA's commitment to give priority to consumers' expectations," said Ray Freeman, OSTA facilitator. "We are delighted that we helped users achieve a great degree of confidence in the compatibility of their CD products, but now those same expectations must be satisfied as the market migrates to DVD technology. We're seeing a strong market need to ensure that CD consumers are protected as they upgrade to DVD drives, including the first rewritable DVD drives. Our goal is to have all DVD device manufacturers rapidly embrace the MultiRead specification for the benefit of consumers, ensuring the continued growth of the industry."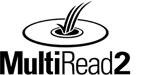 To support the industry's growing migration to DVD technologies, OSTA also announced today that it has extended the capabilities of its MultiRead specification with the release of "MultiRead 2." Developed to address the burgeoning needs of DVD technology, MultiRead 2 will enable manufacturers of DVD drives to ensure read compatibility with the industry's first rewritable DVD format- 2.6 GB DVD-RAM-in addition to allowing these drives to read all classes of CD media. MultiRead 2, which incorporates all elements of OSTA's original MultiRead specification, is designed to protect users' investments in CD media and its content as they upgrade to newer CD and DVD drives.

The MultiRead 2 and MultiRead specifications and test plans are available for viewing and downloading on the OSTA Web site at www.osta.org.

Consistent with OSTA's ongoing mission to assure broad interchangeability of recorded media for the user, the MultiRead program and specifications will evolve to ensure expanded drive/media compatibility as additional DVD formats enter the marketplace. To this end, OSTA plans to issue the next version of its MultiRead specification by the end of 2000. This version is intended to include read compatibility requirements for multiple 4.7 GB recordable DVD formats. OSTA will also evaluate the read compatibility requirements for consumer applications of DVD products, such as DVD players, DVD-based camcorders and video recorders, as well as devices yet to come.

OSTA Assumes Ownership of MultiRead Logo and Licensing Program

To encourage broader use of the MultiRead logo, thereby ensuring consumers that their compatibility expectations will be met, OSTA also announced today that it has taken over ownership of the MultiRead logos and administration of the licensing program. This program, conceived and initially administered by Hewlett-Packard, has been fully transferred to OSTA. Vendors wishing to display the MultiRead and/or MultiRead 2 logos on their devices and sales material must successfully complete the appropriate OSTA test plan and submit a modest licensing fee to OSTA.

About OSTA

The Optical Storage Technology Association (OSTA) was incorporated as an international trade association in 1992 to promote the use of writable optical technologies and products for storage of computer data. The organization's membership includes optical product manufacturers and resellers from three continents, representing more than 85 percent of worldwide writable optical product shipments. They work to shape the future of the industry through regular meetings of CD/DVD, file interchange, market development, magneto-optical and planning committees. Interested companies worldwide are invited to join the organization and participate in its programs by contacting an OSTA representative at +1 805/963-3853, by fax +1 805/962-1541 or by visiting its Web site at www.osta.org.